The Studio
The studio (pictured right) is an old Victorian stable which once housed Clydesdales who pulled the carts for a local brewery in 1888, but now has been converted to produce dinosaurs for books, magazine articles museum exhibits, TV and the movies.
Working here are two illustrators and designers, Robert Walters and Tess Kissinger, and two sculptors, Paul Sorton and Bruce J. Mohn.
We also work in close association with other artists- each with different scientific or historic specializations- making Walters & Kissinger the only multi-artist illustration studio dedicated to the museum and science center field.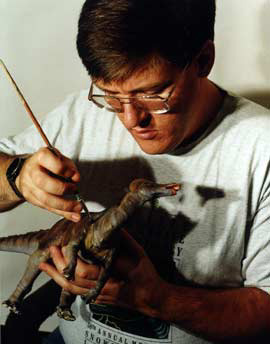 Bruce Mohn paints his sculpture of Corythosaurus.. Read more about Bruce Mohn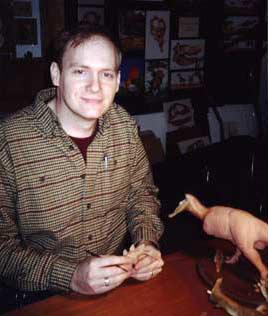 Paul Sorton looks up from work on his sculpture of Baryonyx.. Read more about Paul Sorton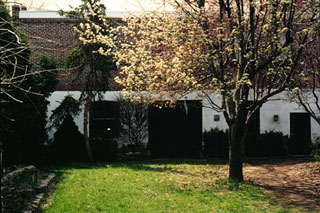 Robert Walters proofs the output of one of his digital murals, this one for the Delaware Museum of Natural History. Read more about Robert Walters
Tess Kissinger stands with the skull of Giganotosaurus which lived here in the studio while its body was being mounted at the Academy of Natural Sciences in Philadelphia. Read more about Tess Kissinger